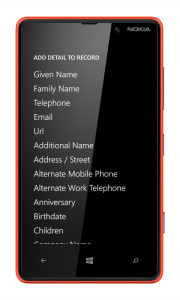 Starting today, you can download the free upgrade to Nfc Interactor 3.0 – it adds the most requested feature from our users, which was also the most complex to implement: full business card support & address book integration!
Nfc Interactor is now the only app in the Store with full integration / support of:
Create business cards based on the universal vCard standard, compatible to all mobile phones.
Import contacts from your address book – with the option to edit, add and remove contact details.
Create a vCard from scratch by specifying the relevant details yourself.
Include up to 45 different contact details.
Minimum-size adaptive vCards that only include the details visible in the composer.
Parse vCards to human-readable text form when reading NFC tags.
Read existing business cards from NFC tags to clone them or to open the vCard in the composer for editing.
In addition, Nfc Interactor can now conviently import the phone number / email address from one of your contacts when writing these tags: SMS, telephone call and mailto (email).
Download Nfc Interactor 3.0 from the Windows Phone store!