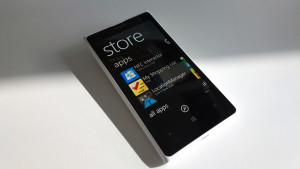 The next major update of NFC interactor is now available for download and as a free update for existing users!
To add to the celebration, it is even the #1 highlighted app on the Windows Phone store in several countries.
Geo Tags and Navigation with HERE Maps
The most notable new feature is the map view for geo tags – simply search for your destination or tap anywhere on the map to create an NFC tag that instantly triggers navigation to that destination! In addition, you can also select your own current position for the geo tags.
To further improve this scenario, we have also integrated 6 new HERE Maps launcher schemes, which allow even more control over the navigation activity you would like to start. For example, you can now choose between walk navigation, drive navigation or public transport.
A short video tutorial on how to write navigation geo tags:
Beautiful Styling and Landscape Support
The most visible change is the new theme and styling. NFC interactor now got its custom theme with a beautiful background image, which adds more visual style and identity to the whole application. Furthermore, the app now also supports landscape mode – the huge advantage is the bigger and more comfortable keyboard in landscape mode for composing your own tags.
Along with the new context menu when tapping the record headers in the composer, these are the first few changes based on a design review of the app that we have recently done together with Nokia.
Professional Users + WP8 GDR3 Features
For professional users, we have again included a unique and tremendously important new feature: you can now save any tag composition to the local storage of the app, and load it anytime you like in the future. That way, you can keep your favorite and most frequently used tag compositions and publish them anytime you like!
Just a few days ago, Microsoft released the 3rd update to Windows Phone 8 (GDR3) for developers. NFC interactor now already supports the new scheme to handle the screen rotation lock. If you frequently need to change the setting, you can now write an easy to use tag with NFC interactor that immediately triggers the corresponding settings page on your phone!
New Features
Save your tag compositions to easily reuse your most common NFC contents
New screen rotation lock tags (in type: WP8 Settings, supported in GDR 3+)
Geo tags: select coordinates from the map or use your own position
Geo tags: use location search to quickly find targets for navigation tags
Geo tags: added support for 6 HERE Maps schemes (including public transport)
Landscape mode support for comfortable text entry
Context menu for record headers in the tag composer
Help button in tag type selection dialog
Beautiful new app theme
Download
NFC interactor 6 is now available for download for Windows Phone 8. A free trial is availalbe, and if you have already installed the app, the store will automatically offer an update.