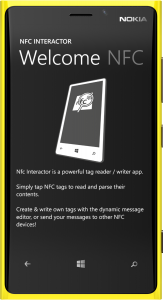 Right after the official announcement of Windows Phone 8, you can now already download Nfc Interactor as one of the world's first next generation WP8 apps!
Utilizing the latest Near Field Communication features that are brand new in Windows Phone 8, Nfc Interactor gives you the best tool to utilize the technology.
The tag reader / writer app analyzes and parses standardized tag contents (based on the NDEF format).
The biggest value for enthusiasts and developers comes from the dynamic tag editor, where you can easily compose new messages for your tags. These can be based on the various templates, for example to write social network tags or LaunchApp tags to directly launch Windows 8 and Windows Phone 8 apps.
The complex code to create and parse the tag contents has been released under the open source LGPL license, which allows you to re-use the C# classes for your own Windows (Phone) 8 app! You can find more information at ndef.codeplex.com.
Nfc Interactor is now available in the Windows Phone Store – a free trial version allows you to test the app before you upgrade to the unlimited experience!